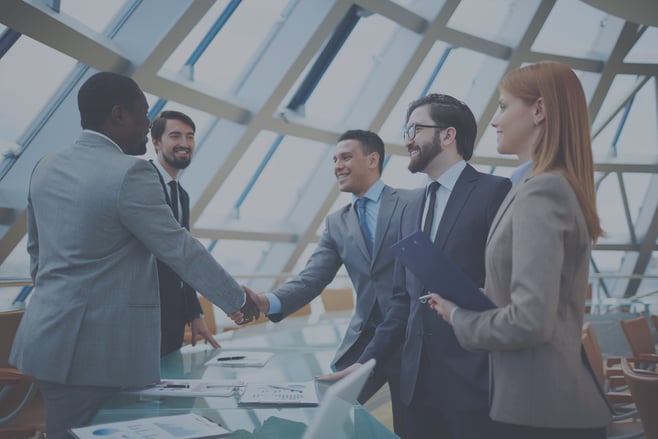 The legal world is fast-paced so it is important that your IT infrastructure and company intranet can keep up and enhance productivity across the business. An effective intranet can, among many things, speed up communication, boost engagement and increase employee collaboration. This blog sets out 7 of the biggest intranet benefits for law firms. For more information on how a new or improved intranet could help your firm, book your place at one of our intranet showcase events.

Top Intranet Benefits:

1) IT Security

At SORCE, we understand that law firms need to retain (and keep confidential) a significant amount of information, such as client details. Therefore, strong cyber security is paramount. An effective intranet solution will be capable of providing a multi-layered approach to security ensuring that your infrastructure, endpoints, mobile devices and internet connections are all adequately protected.

2) People Directory

A People Directory (with photos and contact information) is a key tool for any intranet and organisation. It is helpful for getting to know other employees within your law firm, particularly if you work in a large organisation split over mutliple floors or offices. It's also beneficial for finding people you may not have previously met; you can simply perform a 'quick search' for the person you need, then find out all their relevant employee and contact information. 'Live chat' features can also be utilised for quick and easy communication and collaboration.

3) Online Forms

Save time and paper with online forms. For example, online expense forms are an invaluable tool. Instead of saving paper receipts, online receipts can be saved directly to your online form with automatic calculations doing all the hard work. As a result, saving you time and hassle.

4) Engagement Tools

From Events Calendars to Idea Share Exchange, there are numerous tools and features that can be implemented to encourage employee engagement and make life easier. An Events Calendar enables employees to keep track of what's going on across the organisation and to find out what others are doing (and when they are free) without having to ask them directly. Idea Share Exchange eliminates the need for long email threads and provides a central point for communication exchange, giving employees the opportunity to share ideas for new products, increased productivity, or company procedures.

5) Flexible Out-of-Office Access

Law firms tend not to follow a typical 9 to 5 office-based working day, so it is important that employees can access work wherever and whenever they wish. An effective intranet provides the ability for secure access to the company intranet, and all documentation, from any location.

6) Document Management

Ensuring that all documentation is stored centrally online makes finding important documentation a whole lot easier. For example, keeping all your HR documents online with Document Management ensures that employees are accessing the most up to date version of your HR documents and policies. Additionally, features / tools can be implemented to help track and confirm which updated documents have been read.

7) Feedback and Recognition

In a fast-paced and busy environment it is easy for good work to go unnoticed and to forget the role you play in the bigger picture. Employee Recognition applications allow the firm to recognise when an employee has gone over and beyond. This is great for morale and to remind everyone of the excellent work going on across the firm.

Similarly, the importance of employee feedback should not be ignored. While many organisations will have a repetitive annual feedback survey, an effective intranet solution will provide the ability to create short, frequent and spontaneous surveys. Surveys can be tied to your intranet user login, or made anonymous. Randomised question banks allow you to present employees with new questions each time they take the survey, or the same questions in a different order. You can even include photos or videos which provides the opportunity for more light-hearted surveys to boost engagement such as contests such as "who had the best Halloween costume this year?"

The benefits of an effective intranet for any organisation cannot be overstated, but they are particularly crucial for fast-paced law firms. A good intranet will result in a more efficient workforce as employees are able to access work remotely and feel confident that their work is secure. For more information and to find out how SORCE can help improve your intranet, book a personalised demo or book your place at one of our intranet showcase events.