Black hat reversal is a concept that we have developed from Edward De Bono's theory of six thinking hats. We have adapted his approach to help identify and solve business problems that can be solved with an intranet.
De Bono's theory of the six thinking hats looks at the six different ways of assessing a problem. We focus on black hat thinking which recognises the tendency for people to focus on the negative aspects of a situation.
Our interpretation of the black hat is used as part of the requirements gathering process and works best as a group activity.
You begin by building a statement of what you want your intranet to achieve.
For example, this could be "Our intranet should improve communication between teams, whilst remaining effective and dynamic."
Next, you ask all participants to brainstorm all the ways that would make your intranet statement useless. What features would the worst intranet site have? Each suggestion is noted down. A possible suggestion could be there is no search facility.
The key step we take is to reverse this negative problem, which can then present a solution. In this particular scenario, it could be suggested that by creating a people and global search communication between teams will be improved.
The reason we find the reversal of the black hat to be so effective is because people have a tendency to focus on negativity. We use this technique to encourage participants to be creative and convert their negativity into a positive outcome.
We have found that by reversing De Bono's black hat it provides a very effective way of finding solutions to intranet problems. By taking a statement about the intranet and trying to make it as ineffective as possible you are able to look at practical solutions or applications that could solve pain points and help you achieve your objectives.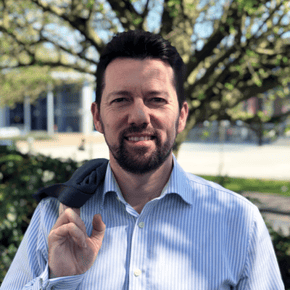 Martyn Green
Martyn is our Intranet Success Director, his intranet knowledge is extensive, having worked with hundreds of clients, he helps understand what your intranet needs are and supports you in creating your intranet structure and content requirements.